FEATURED AUTHOR: PAUL SCHUMACHER
It is my honor to feature Paul Schumacher, Colorado author of the coming-of-age novel, The Importance of Now, which was recently released by Black Rose Writing on May 27, 2021 (234 pages). I first met Paul at a writing workshop sponsored by the Northern Colorado Writers and was moved by his heartfelt, poignant writing style in his first book, The Tattered Box, at which time I interviewed him (See Paul Schumacher Interview). 
Below are highlights of The Importance of Now, Paul Schumacher's author bio, author interview, and my review of his book.
HIGHLIGHTS: THE IMPORTANCE OF NOW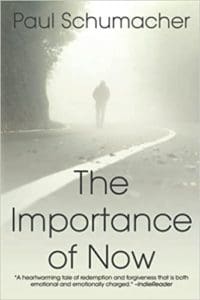 The Importance of Now
At 14, Shawn Stevens commits a horrible crime the day after his father's funeral. These two events define his life. After leaving juvenile detention, he starts life over but is haunted by his past, unable to forgive anybody, including himself. When Shawn becomes a mentor, he finally confronts what he's done, questioning everything.

In a parallel story from the present, Shawn's 13-year-old son, Aidan, finds letters in the attic introducing him to the father he never met. Aidan discovers the secrets his mom kept all these years and uncovers what drove his dad to finally forgive before it was too late.
Buy Links:

Amazon US  ♠  Amazon UK  ♠  Amazon AU  ♠  Amazon CA  ♠  Barnes & Noble

The Tattered Box
by Paul Schumacher
Eighteen-year-old John receives a peculiar gift from his elderly grandpa: a timeworn box filled with items from the past. John soon discovers what they all mean when he travels back to 1941 and suddenly finds himself the same age as his grandpa. They play baseball together, enjoy a double date, yet endure hardships and the imminent threat of war. As the items in the box become the ultimate storytellers, John hopes to appreciate his grandpa for who he is.
Buy Links:
Amazon US  ♠  Amazon UK  ♠  Amazon AU  ♠  Amazon CA  ♠  Barnes & Noble
AUTHOR BIO: PAUL SCHUMACHER

Paul Schumacher was born and raised in Milwaukee, Wisconsin. He currently lives in Colorado with his wife, Gail, and their three children. He has authored more than twenty technical papers and is an inventor on more than forty patents. His first novel, The Tattered Box, was published in December 2016, and his second book, The Importance of Now, was published in May 2021.

Social Media Links:

AUTHOR INTERVIEW: PAUL SCHUMACHER

1) What's the first line in your newest book, "The Importance of Now?"

I hated going up, but I had to.

2) What's the book about? Give us the "pitch".

The back cover summary will speak for itself. To me, it's about learning to forgive, both others and yourself. The protagonist, Shawn, is a flawed guy with a good heart. He's trying to move beyond his past, but it's difficult in so many ways. Like us, he finds inspiration and love in unexpected places, which makes for an interesting road to recovery.

3) What inspired you to write the book? A particular person? An event?

I mentored six boys at my church back in Minnesota in the late 1990s, and it really opened my eyes to the love and forgiveness that everyone wants and needs, especially youth. While kids require a lot, they can also be very open-minded and willing to accept others, much more so than many adults. As I was the only mentor who was not a parent, I wondered how I would have been treated if I had a shady past, if I needed some oft-mentioned forgiveness but the church was reluctant to give it. I have also been to many of the places described in the book, so they provided a great backdrop for the story.

4) What's the main reason someone should really read this book?

We all struggle with learning to forgive, and it's especially hard when the person in need of forgiveness is yourself. This story also makes you think about redemption and your unforeseen impact on others. We could all use some reminders of that now and then.

5) What's the most distinctive thing about the main character? Who-real or fictional-would you say the character reminds you of?

Shawn seems so real to me, partly because he is composed of many people I know, including myself. I purposely made his road to recovery an up and down rollercoaster, as that is what most personal roads are like. I've experienced it myself. I love how he fights his way through his struggles. I was rooting for him the whole time I wrote it. I hope you will, too.

6) Is this the first book you've written?

It's my second book. My first novel, The Tattered Box, was published in December 2016. It's a story about a grandson who travels back in time to hang out with his grandpa.  

7) When did you first decide to become an author?

I had often considered it but never really got around to finding the time (I'm sure you can relate). The day before my farther-in-law passed away, I was taking my oldest to school. During the short drive, he said, "Wouldn't it be cool if I could somehow travel back in time to hang out with Grandpa. We'd golf, bowl, fish, you name it." Well, needless to say, I was hooked. I knew right away that'd make a great story, so that's where the inspiration for my first book came from. I then had to convince myself I could do it again, so in some ways this second one was more difficult to write. But I love how it turned out. 

8) What's a great piece of advice that you can share with fellow indie authors?

Write to an audience of one: yourself. Especially in early drafts, don't think about what will sell or what others will want to read or think of you. Don't care, just write. Write the story that only you can write, and do it with enough passion that others will want to come along for the ride.

9) Which book do you wish you could have written?

I'm going to cheat and name two:

A Separate Peaceby John Knowles
A Prayer for Owen Meany by John IrvinG

BOOK REVIEW: THE IMPORTANCE OF NOW

5 of 5 Stars 
The Importance of Now by Paul Schumacher is a coming-of-age literary fiction with themes of forgiveness, redemption, and unconditional love. The story is told primarily by Aiden and his father, Shawn, as a young man in a time/slip narrative. Both of their stories unfold after thirteen-year-old Aiden finds letters about his father in an attic, and he confronts his mother, Grace, to find out more about him. As Aiden uncovers the truth, Shawn's story is told in parallel in the past after returning from a boy's detention home for a crime he committed shortly after his own father's death. Shawn struggles to redeem himself by mentoring teen boys at a church and learning how to forgive others to set him free from bitterness. Falling deeply in love, Shawn looks forward to a bright future, but he must grasp happiness at the moment before it escapes him.

Author Paul Schumacher has written a poignant, beautifully written story with the powerful themes of forgiveness, redemption, and unconditional love. The prose is rich with sensory descriptions and metaphors. It is a character-driven story with the unique structure of time/slip narratives, letters, and police records. The author nails the character's voices through internal thoughts, natural dialogue, and descriptions. Both Shawn and Aiden are relatable characters as they struggle to understand themselves in their coming-of-age life journeys. I was particularly moved by Shawn, who finally understands why he made reckless decisions as a teen and what he needs to move forward in the depths of his despair. Grace helps light the way for Shawn through her forgiveness and unconditional love for him. Finally, Aidan learns by vicariously experiencing what his father went through so he can accept his mother.

The Importance of Now speaks to the heart about redemption, forgiveness, and unconditional love. These themes resonated with me long after I read the story—characteristics of a classic novel. Highly recommended.