Below is a reblog of Day 3 of the blog tour for Jan Sikes announcing the release of Military Romance / Romantic Suspense, Jagged Feathers. The original post is located at Linnea Tanner Website
FEATURED AUTHOR: JAN SIKES
Welcome to Day 3 of the Blog Tour for Award-Winning Author Jan Sikes which is being held the month of February 2022 at various websites. Join me in celebrating the launch of her Military Romance, Romantic Suspense, Jagged Feathers (Book 2 The White Rune Series), which was released by The Wild Rose Press, Inc on 31 January 2022 (334 pages).
It was a pleasure to interview Jan and learn more about her and the background of her book. One of the aspects I enjoyed about Jan's stories is how she weaves in paranormal elements. As a fan of Jan Sikes, I find her stories to be heartfelt with engaging characters. It was fascinating to learn that she previously lived in Colorado and began studying runes extensively beginning in 2012. See Jan's interview below to learn more about her.
Having read Book 1 Ghostly Interference, I found Jagged Feathers to be a faster-paced book with lots of action and suspense, which works well for the main character —a war vet wounded in Afghanistan. Below is my review of her book which I recommend that you read.
Also below are highlights of Jagged Feathers and the author bio for Jan Sikes.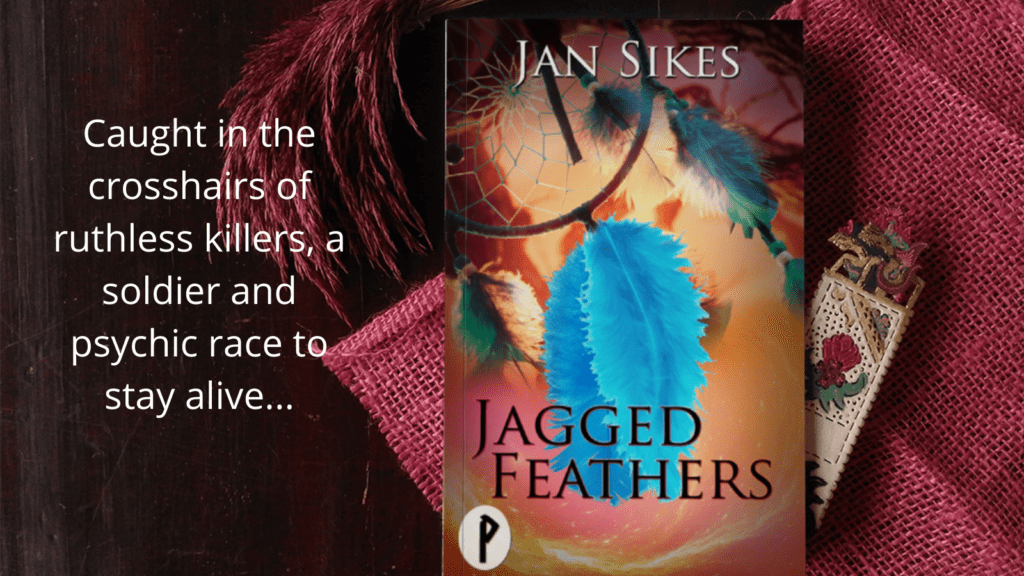 To follow the complete blog tour, CLICK Blog Tour
HIGHLIGHTS: JAGGED FEATHERS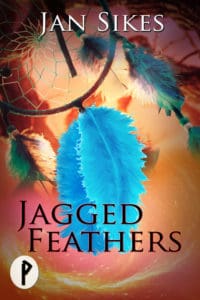 Jagged Feathers
(Book 2 The White Rune Series)
by Jan Sikes
(Blurb)
Vann Noble did his duty. He served his country and returned a shell of a man, wounded inside and out. With a missing limb and battling PTSD, he seeks healing in an isolated cabin outside a small Texas town with a stray dog that sees beyond his master's scars. If only the white rune's magic can bring a happily ever after to a man as broken as Vann.  
On the run from hired killers and struggling to make sense of her unexplained deadly mission, Nakina Bird seeks refuge in Vann's cabin. She has secrets. Secrets that can get them all killed.
A ticking clock and long odds of living or dying, create jarring risks.
Will these two not only survive, but find an unexpected love along the way? Or, will evil forces win and destroy them both?
PURCHASE LINKS:
AMAZON ♥   BARNES & NOBLE ♥   GOODREADS  ♥   BOOKBUB
AUTHOR BIO: JAN SIKES

SOCIAL MEDIA LINKS:
WEBSITE  ♥  BLOG  ♥  TWITTER  ♥  FACEBOOK  ♥  PINTEREST   ♥  GOODREADS   ♥  BOOKBUB    ♥  LINKEDIN    ♥ AMAZON AUTHOR PAGE
AUTHOR INTERVIEW: J

AN SIKES
Would you provide an overview of the books you've published in The White Rune Series?
I had the idea for Ghostly Interference in 2015 when I was writing the second book in my Biographical Fiction series. At the time, all I could do was jot down some notes and move on. It wasn't until I finished that series that I returned to the story, which had a working title of When Two Worlds Collide. The White Rune came into the story quite unexpectedly, and it was the catalyst that gave me a three-book series. I pitched the series for three years before a publisher gave me a contract. Patience seems to be a big part of being an author, and I am not, by nature, a very patient person. But it all paid off, and now I have finished the series, having just turned in the manuscript for book 3, Saddled Hearts, which Wild Rose Press will release later in 2022.
Please tell us more about your most recently released book, Jagged Feathers: Book 2.
I loved writing Jagged Feathers. It covers some complex issues such as amputation and PTSD. I had first-hand knowledge of both through my late husband, and it gave me a unique insight into the struggles. I wanted my female character to have a paranormal gift, so I gave her psychic visions. In the story, she struggles with these as she can't always tell if they are from the past, present, or future. Throughout situations that arise, she learns to trust and accept her gift more. Neither character believed anyone could ever love them with all their flaws and scars. But love looks beyond the physical.
What inspired you to write the paranormal series centered around the white rune?
I have been a student of all things metaphysical since the seventies, but while I lived in Colorado in 2012, I studied the runes intensively. So, when it came to creating this series, it fell into place that a white rune with the Wunjo symbol (which signifies a happily-ever-after) would get passed from book to book. Each character needed to have something to believe in – that someone might love them despite their faults and flaws. Since beginning the series, I have studied the runes more and have dabbled with doing rune readings. The Universe constantly amazes me with the accuracy of the readings.
How much research was involved in writing your books about the significance of runes and elements of paranormal associated with each book in the series?
As I said above, the study of the runes began for me in 2012. They were part of a psychic development class I took while in Colorado. So, much of my research came from looking back at my class notes and reference books. I have a dear friend who is a fantastic psychic medium, and I have always admired her gifts. I drew from my personal experiences of sitting in readings and séances with her and others, to develop some of these same gifts in my characters.
Is there any sub-character in The White Rune Series that is your favorite? Explain why.
My favorite sub-character in this series is Charlotte Peters, Jag Peters' mother, in Ghostly Interference. Charlotte has bits and pieces of myself woven throughout her makeup, but she also came to me and told me her entire backstory, which I wrote as a short story. It has not been published, except in an obscure anthology. Someday I may publish her story as a prologue to the series.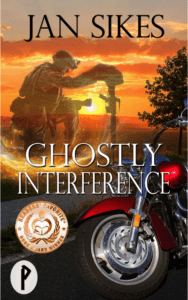 How often do your characters surprise you by doing or saying something totally unexpected?
I'm laughing out loud at this question. The answer is, "All the time!" For example, the big reveal in book one about Jag Peters' father only came after Charlotte told me her story. But it gave me an excellent twist to add to the storyline.
Have you received reactions/feedback to your work that has surprised you? In what way?
I think I'm always surprised when a reader praises my work or tells me a story brought out emotions in them as they read. When that happens, I'm not only surprised but shocked and humbled. That is always my goal. I want my readers to feel what I feel as I'm creating the stories.
Are there more books on the horizon that will be added to The White Rune Series?
Yes. I just signed a new contract for book 3 in the series, Saddled Hearts. It brings a satisfying ending to the magic of the White Rune. I won't leave any spoilers, but I will say the rune goes to its final owner in book 3. Saddled Hearts should release sometime in late 2022.
What are three things you think we can all do to make the world a better place?
First and foremost, always show kindness toward everyone. When we look past our differences, we start to see we are all connected.

Secondly, treat our planet with more love and respect. I'm afraid if we don't, Mother Earth will throw a big fit that we won't be prepared for.

Thirdly, keep our little corners of this big ol' world as peaceful, honest, and filled with love as we possibly can.

What's the best gift you've ever received?
The best gift I ever received was the epic love story that started my writing journey. I never aspired to be a writer, but I lived a story someone needed to write. When I realized I was the only one that could tell it, my entire world shifted and hasn't stopped. I've now published six novels, a book of poems and art, and twelve short stories. I see no way to stop!
What makes you laugh?
Many things can bring a chuckle, but I cannot listen to a baby laugh and not laugh along with him/her. It's impossible not to feel the purity of their laughter. They live totally immersed in the moment.  
What simple pleasure makes you smile?
The laughter and happiness of my grandchildren. As they grow and develop, I see traits in each of them that are unique, and it brings me great joy to watch them. It is a gift to have the opportunity to offer my love, support, and guidance.
BOOK REVIEW: JAGGED FEATHERS
Jagged Feathers by Jan Sikes
My rating: 4 of 5 stars
Jagged Feathers by Jan Sikes is Book 2 in The White Rune Series. This is a fast-paced military romance set in Texas with strong elements of action and suspense. As compared to the multi-layer, heartfelt Book 1 Ghostly Interference, the second book has a faster pace fitting for the main character Vann —a military veteran from the Afghanistan war who is haunted by emotional wounds. He feels like the shell of the vibrant man he once was, as he struggles to adjust to a prosthetic leg. A character from the first book (Rena Jett) gives Vann a white rune, symbolizing a happy ever ending which his former military buddy (Sam), who died in the war, had given her.
After receiving the rune, Vann is unaware that his life is about to change when he rescues a mysterious woman running away from a ricochet of bullets. Although the woman is seriously ill with a hacking cough, she refuses to go to the hospital. Vann's military training kicks in as he takes the woman back home to take care of her. As she recovers, he learns that her name is Nakina and that she is being chased by a drug cartel. The crime organization wants a package she is safeguarding for her boss who has gone missing. Since Nakina is hesitant to go to the police, Vann is drawn into danger with a woman he hardly knows but is attracted to. Can he find love with Nakina with a dubious past? Is he willing to risk everything, including his life, to gamble that he will find his happy ever ending with this mysterious woman?
Author Jan Sikes has taken the series to another level in which the elements of action and adventure are critical for Vann to accept his disability and to find a reason for living. I was immediately immersed in Vann's despair in the first chapter but then swept into an action scene when he must rescue Nakina. Overall, the characters are engaging and the dialogue is natural. For those who love dogs, Vann has a part German Shepherd, part Border Collie companion that helps him deal with his PTSD. Riveting action scenes juxtapose steamy love scenes. There could have been more built-up of suspense in later scenes to make the climax resonate.
What I like most about the story is the character development of Vann. His strength of character shines through when he is put in life-threatening situations and must use his military experience to get through it. Not only must he take a chance to trust and to love Nakina, but he must also risk being hurt if she does not accept him with his disability. He is the epitome of what many women like to see in a romantic partner—strong-minded, protective, and caring.
For those who enjoy reading the blend of fast-paced suspense and steamy military romance with an engaging war vet longing for true love, I recommend Jagged Feathers.