INTRODUCTION
It is my pleasure to introduce Luciana Cavallaro, an Australian author who graciously accepted my invitation to interview her. She recently launched the historical fantasy, action/adventure book, The Guardian's Legacy (Coin of Time Book 1).
I've followed Luciana for several years and share her love of mythology. I've enjoyed reading all her books which interweave Greek mythology and time travel into the tales. More information about Luciana Cavallaro and her work follows the interview below.
AUTHOR INTERVIEW LUCIANA CAVALLARO

Would you provide an overview of books that you have published? Is there a common theme from Greek mythology that you like to convey to readers?
I have a published short story collection written from the point of view of the female protagonist based on well-known Greek myths. In the Servant of the Gods series, I currently have two books published, set in 600 BCE, and it is about a 21st Century man who is pulled from his timeline and thrust back into the past to prevent the rise of Christianity. The main character, Evan, is Zeus' son. However, he is not at all happy about his current situation and is argumentative and angry.
I studied and have been a student of ancient history for many years, fascinated by ancient cultures and in particular Ancient Greece and mythology. My first introduction to Greek mythology and history stemmed from the legend of Atlantis. From there, I wanted to share what I learnt through stories.
Please tell us more about your most recently released book, The Guardian's Legacy (Coin of Time Book 1). What other books are similar to yours?
The Guardian's Legacy was first written as a short story, Herodotos' Coin, for Australian author Sally Odgers, who included it in a publication she compiled. It is about a rare object with unusual properties and supernatural qualities, that was later made into two coins, to hide its true nature. The first owner, Herakles, found it and learnt of its unique ability. Later, Nik's family become the guardians of one of the coins and keep it hidden for thousands of years.
Books by Dan Brown and Wilbur Smith are similar, as are those by Raymond Khoury, James Rollins, and Steve Berry.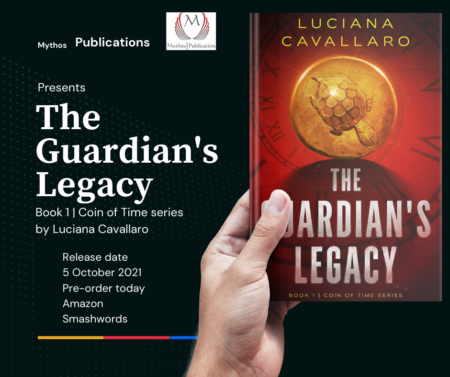 What inspired you to write about two coins minted by Heracles that, when combined, have a secret power that could potentially harm the world if they fall into the wrong hands? 
That is a good question. The idea came from an object that was sent to me by Sally Odgers, a Greek coin. I sat on it for a number of weeks trying to work a story that centred around a coin. I knew I wanted the story set in the present, but wanted to added mystery and a little supernatural into the plot. Plus, I read lots of thrillers and mysteries, and love anything with artefacts. I remember reading about the Spear of Destiny, and other such holy artefacts, and thought why not a coin with magical attributes.
Why two coins? It's that ole trope of what would you do if you had the power to use the coins? Would you use it for self-gain and lose yourself to the power it gives you, or to help others, and see the power of change and good it makes? We make these decisions on a daily basis, some potentially life-changing and steering you in a different direction, or a little blip on the radar, and you don't notice what happens until days, weeks or months later.
How much research was involved in writing your books? How did you go ABOUT researching ancient coins in preparation for writing The Guardian's Legacy?
I do a lot of research for my books, mainly as I love learning about the cultures and history, and most importantly, I want to provide readers with as much authenticity as I can about the time, location and events of the time. Of course, with fiction, there is creative license, otherwise it wouldn't be much of a story. Like mythology, there is a basis/hint of truth in the stories.
In researching about coins for The Guardian's Legacy, I wanted to find out when, where and who minted the first coin. I have a nice collection of history books that I checked, then researched the web, cross-referencing lots of sites, verifying sources and dates. It did take time, as I am a bit of a perfectionist when it comes to locating information in sources, something that I also encourage and demonstrate in my classes.
Are there any similarities between your main character, Nicolaos Zosimos (Nik), in The Guardian's Legacy and yourself?
There are some similarities between Nik and myself. We're both teachers and I did teach at an all boys' independent school in Perth. We both have European heritage—Nik's Greek and mine Is Italian, though I have a strong feeling somewhere in my family's lineage, we may have Greek ancestry. Plus, a love of ancient history, which Nik gets to teach and I don't, as my school doesn't offer it as a subject. That is the extent of our similarities.
Do have a favorite sub-character in The Guardian's Legacy? If so, why?
That is a hard question to answer, each of them having different qualities I like. If I have to choose, it's most likely Detective Sauveterre. She has an inner strength that we will get to see in the next book.
How many additional books do you anticipate in the Coin of Time series? Can you give us a hint on where the adventure will take Nik?
The Coin of Time series is a 5-book series. Well, Nik is in charge of the story and he does need to rescue his Papou, so we'll see him traversing across Europe to avoid being captured.
As an Indie author, what advice would you give to writers who are considering to independently publish their work?
Do your research and work out whether you have the resilience and patience to publish independently. Working full-time and writing takes endurance and passion, and if you don't have a work ethic, then perhaps it's not the best route to take.
I just wish someone had told me how much work would be involved and the process to be an independent writer/publisher. Not sure that would have changed my own path, but it may have helped in some of the decisions I made over the years.
How do you balance your life as an author and your day occupation as a teacher?
This has been difficult, juggling and balancing my job as a teacher and finding time to write. I set time aside in the evening to write, and sometimes that doesn't happen, depending on what time I get home and prepare for dinner, etc. I have writing targets and try to achieve them. During the school holidays, I set days for my writing, and days for downtime and socialising. The school terms are so busy, so when the holidays come, I write as much as I can.
Are there any life experiences that profoundly impacted you and inspired you to be an author?
I had a bad car accident and couldn't work for three months. My mental health suffered, and I found writing helped deal with a lot of angst and anxiety. Writing allowed me to express what I was feeling and seeing the words on the page helped to heal. It was from then on, and after my trip to Europe, I was inspired to write.
How are ancient history and mythology relevant to modern day?
I believe ancient history and mythology are more important than ever today. Our past provides a road map from where we've been, and guides us into the future. We have the opportunity to learn so much from the amazing civilisations around the world, what they have achieved with much less than we have today. The lessons of the past are also ours today; we just need to listen and heed their wisdom. Myths were and still are lessons for people, to help guide and provide seeds of growth, where morals and ethical behaviours are illustrated.
What might we be surprised to learn about you?
Well, before I started school my first spoken language was Italian and had difficulty with English. Unfortunately, I don't speak Italian today. Lost the ability after I began school. I daresay it is somewhere in my long-term memory, but most likely some psychological block is preventing me from remembering how to speak it.
AUTHOR BIO: LUCIANA CAVALLARO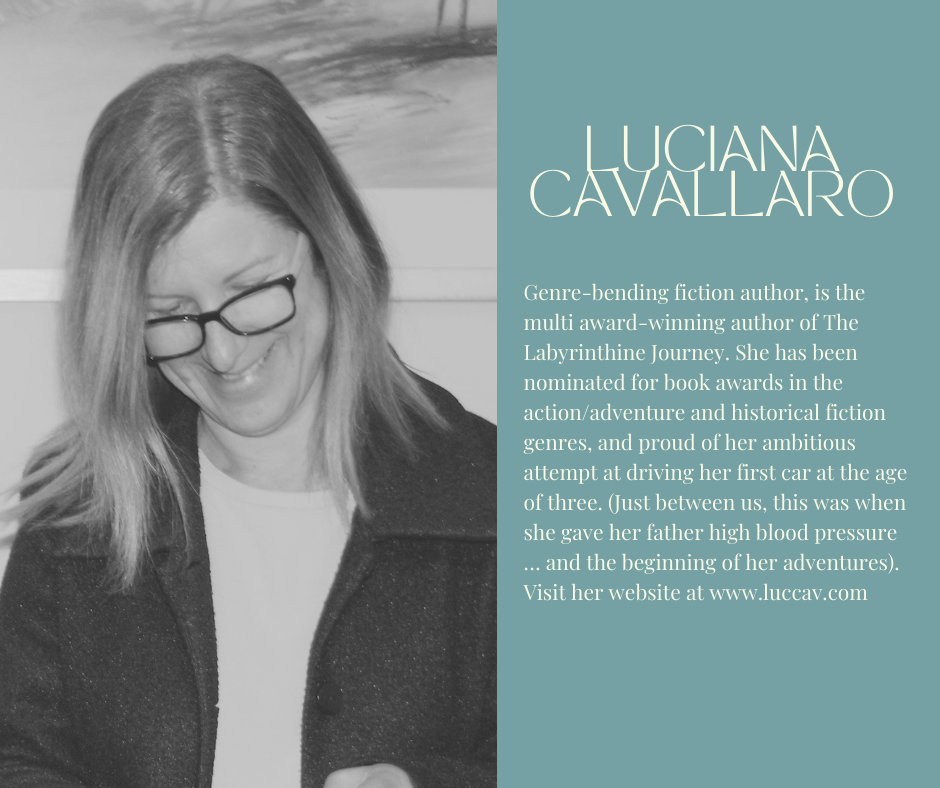 You can connect with her via:
Website  ♦  Twitter ♦ LinkedIn  ♦ BookBub ♦ Amazon Author Page ♦ Goodreads  ♦ YouTube 
BOOKS BY LUCIANA CAVALARRO



ACCURSED WOMEN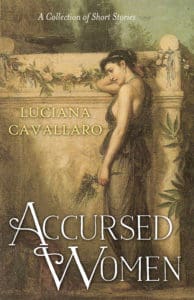 Five stories, five women, five legends.
Phaedra, a Minoan princess, marries out of duty and to safeguard her precious home. She falls in love with Hippolytos, her husband's son and asks the Goddess Aphrodite for help. He spurns her affections.
The Trojan War, one of history's greatest stories ever told. What if the legend as told is wrong? History is told by the victors, and facts changed to twist the truth. Is it possible Helen of Sparta never went to Troy?
Hera, Queen of the Gods, is the most powerful goddess on Mount Olympos. For the first time ever in a candid interview, Hera shares what it's like to be a goddess and wife to Zeus, the King of the Gods.
Created by the gods as a gift to humanity, Pandora is the first woman on Earth. Did she know what Zeus intended when he presented an urn as a wedding dowry to her husband? Neither she nor Epimetheus knew what it contained, but they were told never to open it.
All Medousa wanted was a life of love and acceptance but one fateful night it changed. While she's alone in the Temple of Athene tending to the sacred fire, Poseidon pays a visit. No human can stop an immortal from taking what they want.
CLICK BUY LINK

SEARCH FOR THE GOLDEN SERPENT


(Servant of the Gods Book 1)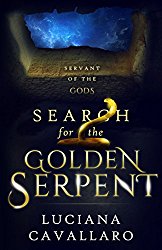 A true page-turner, in a similar vein to Wilbur Smith and David Gemmell, is an action-packed adventure story catapulting a reluctant hero from one dangerous encounter to another.
Evan has been having some very strange dreams.
The Perth-based architect dismissed an unexpected phone call from an entrepreneur in Greece, asking him to restore his family home, as the ravings of a crank. Until, that is, the dreams begin, each more vivid than the last. A dream encounter with a mysterious character called Zeus sees him catapulted back in time to 500 years before the birth of Christ. 
Evan finds himself quickly embroiled in a plot to prevent the birth of Christianity, an unwilling player in an epic struggle between the old gods and the new, fighting for his life.
CLICK BUY LINK
THE LABYRINTHINE JOURNEY
(Servant of the Gods Book 2)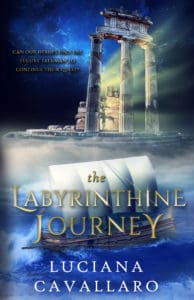 A mysterious message. A mission from the gods. Can he turn back the clock to prevent his family's extinction?
Evan's new life is in ancient Greece, and he fears he'll never see his home again. Ripped from his 21st century world, his only way to return to the present is to collect god-saving sacred relics for his father Zeus. But to locate them means braving perilous seas and staring down death in search of a legendary oracle.
During their voyage, Evan and his companions come face-to-face with mythical creatures, fabled warriors, and treacherous sorcery. But despite the dangers all around them, Evan's deadliest threat may be bound to him by blood…
Can Evan complete his quest before he and the gods are lost to history?
The Labyrinthine Journey is the second book in the fast-paced Servant of the Gods historical fiction series. If you like well-researched landscapes, suspenseful twists and turns, and mythic battles, then you'll love Luciana Cavallaro's heroic odyssey.
THE GUARDIAN'S LEGACY
(Coin of Time Book 1)
An ancient cover-up, a dangerous legacy, and the search for the most powerful object.
A three-thousand-year-old magical coin, the disappearance of an old man, fanatical neo-Nazis, and the hunt by Interpol, merge in this gripping story of an ancient cover-up, and the transition of an ordinary man into the guardian of the most powerful coin on earth.
High school teacher Nik Zosimos, leads an uncomplicated life until he receives a cryptic phone message from his grandfather, Iasos. He hurries to his grandfather's finding him relaxed and pleased to see him. A few beers later, Nik leaves his grandfather's place, stupefied and astounded. Iasos has a secret, one that dates back to the time of Herakles.
But that was just a myth, wasn't it?
If you like Dan Brown and Wilbur Smith books or enjoys action, fast-past dramatic shows similar to National Treasure and The Librarians, then you'll love The Guardian's Legacy. Award-winning author of Historical Fantasy/Adventure, Luciana Cavallaro, pens a thrilling mystery. Click below on one of the retail sites to find out how Nik's life changes.
CLICK BUY LINK